Ben Behrends is a resident of Iowa, U.S. States. He participates in American Ninja Warrior 15 and is a Ninja coach at Ninja U in Cedar Falls, Iowa. The complete Behrends family has a YouTube channel where they make or stretch the videos themselves. The channel is named "Backyard Ninja Kids," where they have over 3,500 subscribers.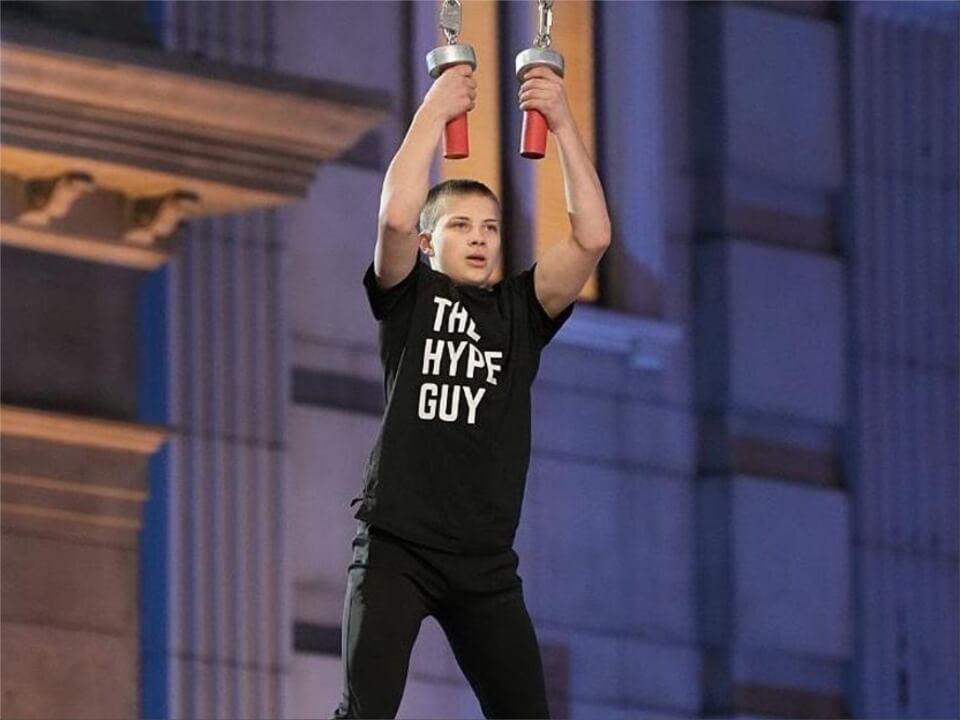 Early Life
A native of Northeast Iowa, Ben was born in 2007 and he is 16 years old. His father is Scott Behrends and his mother is Lindsey Behrends. Ben and his father are the first father-and-son duo who have advanced to the national finals of Ninja Warriors.
He shared his childhood with a younger brother Jason, with whom he shares a YouTube channel. On that YouTube channel, they have the motto to build obstacles, ninja courses, workout videos, and interview ninjas. You will find them uploading every kind of video, like having ninja games in the backyard area, at the park, and at the Ninja Gym. Ben has been given a nickname, The Hype Guy.
Ben Behrends Career
The first competition he had in his life was American Ninja Warrior Junior, and most recently, he is appearing for American Ninja Warrior 15. Summing up, he has participated in three overall competitions. When he participated in American Ninja Warrior Junior, he was around 11-12 years old.
His runs were shown in Episode 14, and after that, in the seeding round, he stood against Addy Herman and lost the game. Then, he entered the knockout round in the losing seed. He defeated Sophie Stuart in the final showdown, again stood against Addy Herman, and lost the game to him. This further ended his season for the game. Then, he also came to American Ninja Warrior 14.
American Ninja Warrior 15
This time, Ben has returned with American Ninja Warrior 15 in the fifth qualifying round, pairing up with his dad, Scott. Though he failed the fifth obstacle in the "Ring the Bells round", that was enough to put him in 7th place and advance to the semi-finals.
On the same side, his father completed the course with the fourth fastest time. He has advanced to the second season's national finals, and that is to be with a faster time. At Stage One, he had a tie with Tyler Yamauchi and was the shortest male competitor to complete the obstacle.
Then, he completed the gambler round, which knocked out his dad earlier, but he did not meet the task within the given time, and the task was timed out. He completed the round and advanced to Stage Two, having the 21st overall position.
Ben Behrends Biography

Real Name
Ben Behrends
Birth Date
2007
Age (as of 2023)
16 Years
Birth Place
United States
Profession
Student
College
–
Qualification
–

Physical Statistics

Height
in feet inches – 5' 1" – in Centimeters – 154 cm
Weight
in Kilograms – 50 kg – in Pounds – 110 lbs
Hair Color
Blonde
Eye Color
Brown

Ben Behrends Family

Father
Scott Behrends
Mother
Lindsey Behrends
Sister
Lia Behrends
Brother
Jason Behrends

Relationship Status

Marital Status
Single
Affair
No
Who is Ben Behrends' girlfriend?
None
Personal Life
Ben is only 16 years old and has yet to achieve many things in his life. He has also not been involved in past love affairs.
Ben Behrends Social Media
Ben has an Instagram account with the name – @backyardninjakids, where he has 7,412 followers and 1,194 following members. He has around 1,444 posts, and you will find that most of his pictures belong to his Ninja family and Ninja surroundings. He is also regular to Ninja Gym and often posts images of that on Instagram.
On YouTube, he is available as @BackyardNinjaKids, where the complete family comes and has videos together.
Ben Behrends Net Worth
Ben Behrends has yet to receive any prize money. If he wins the game, he will eventually earn the prize money of around $1 million.
Facts About Ben Behrends
Ben Behrends has been given the name – Backyard Ninja Kids
He has the best memory that belongs to American Ninja Warrior Jr! Where he hit the buzzers.
He has a favorite ninja obstacle, which is "Flywheels."
The proudest ninja moment was getting chosen to be on American Ninja Warrior Season 1.
Ben Behrends spares his time for reading, building things out of Legos, and having Nerf gun wars with his friends.
He can speak the alphabet backward as fast as he can do it in the forward direction.