Caleb Bergstrom is a native of Seminole, Florida. He is a professional American Ninja Warrior. For the first time, he participated in American Ninja Warrior 11 in Atlanta, then in American Ninja Warrior 12, and now, he is appearing in American Ninja Warrior 15.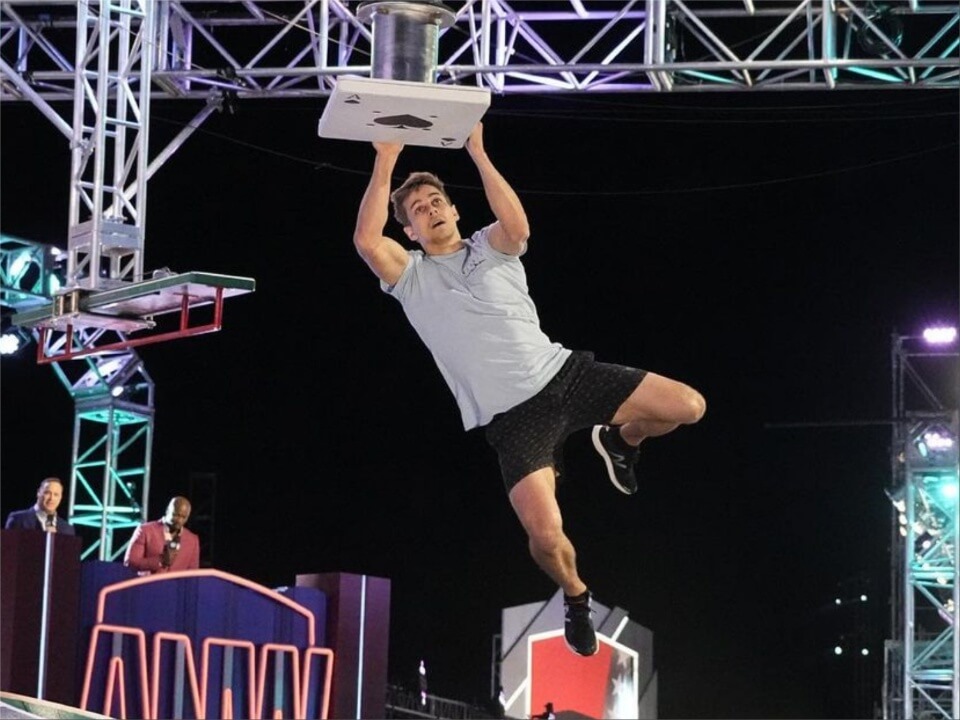 The first time he participated in American Ninja Warrior, he was only 19 years old and the youngest of all the nine kids of the Bergstrom Bunch. He participated with his sister, Caitlyn. He has a brother, Danny, who earlier participated in American Ninja Warrior with his dad, Jason.
Early Life
Caleb Bergstrom is a 23-year-old young athlete who is a native of Seminole, Florida, working as a Ninja Coach and being a Ninja Warrior. He has been given a nickname, Baby Bergie. His best performance still belongs to American Ninja Warrior 11, Stage One, and Diving Boards.
Caleb Bergstrom Career
Caleb was 19 when he started participating in American Ninja Warrior games. In American Ninja Warrior 11, he passed the qualifying round, became the first participant to pass the round of Ferris Wheel, and also went for the 18-foot Mega Wall. Next, he could not hold his fingers while jumping over the top but completed the task on the second attempt.
In this competition, he also reached the national finals and went to Vegas, where he passed the first six obstacles, but in the end, he fell on the diving boards. This further ended up his season. Caleb participated in Ninja Warrior 12 along with his sister, Caitlyn Bergstrom, and also brought rookie David Hutchinson to compete.
The first two obstacles were passed quickly, but later in the round of Ring Chaser, he splashed down, missing the bars with his hands, and this ended his season. Caleb was also invited to the American Ninja Warrior 13 but was exposed to COVID-19, which further forced him and many other contestants to withdraw.
American Ninja Warrior 15
Caleb appeared for the eighth round of American Ninja Warrior 15. He appeared for the round with the mission to compete and appear for the national finals, which he did well. Caleb completed the qualifier course with fineness and became the fastest personality to compete at night.
He also completed the mega wall round, and this made him earn around $10,000. Next, he faced Jason Grossman during the Semifinals. Jason fell on the slingshot round, and Caleb cleared the course, making him appear for the trip to Vegas and the national finals.
Caleb Bergstrom Biography

Real Name
Caleb Bergstrom
Birth Date
2000
Age (as of 2023)
23 Years
Birth Place
Seminole, Florida, U.S.
Profession
Ninja Coach
College
–
Qualification
Graduate

Physical Statistics

Height
in feet inches – 5' 10" – in Centimeters – 178 cm
Weight
in Kilograms – 70 kg – in Pounds – 155 lbs
Hair Color
Brown
Eye Color
Brown

Caleb Bergstrom Family

Father
Jason Bergstrom
Mother
Kathy Bergstrom
Sister
Caitlyn Bergstrom
Brother
–

Relationship Status

Marital Status
Married
Affair
No
Who is Caleb Bergstrom's wife?
Ashley Bergstrom
Personal Life
Caleb Bergstrom is a happy-living married man. He has been married to Ashley McConville. Ashley McConville is around 21/22 years old and has participated in American Ninja Warrior thrice- for seasons 11, 12 and 15.
She was also there in the American Ninja Warrior: Women's Championship of season 12 of ANW. The best performance she had in the past was at American Ninja Warrior 15, Stage One, Three Ring Circus. Caleb has also mentioned in his Instagram bio that he has been married to the prettiest girl.
Caleb Bergstrom Social Media
Bergstrom is available on Instagram with the handle name – @caleb_bergie, where he has 8,871 followers and 513 following members. He has 329 posts on Instagram, all belonging to his Ninja surroundings and Ninja family. There are a few posts that he has posted along with his wife, including the marriage posts and the other traveling posts. Caleb knelt to propose to the lady of his life on 12th June 2021 and posted the image on Instagram with the hashtag #shesaidyes.
Caleb Bergstrom Net Worth
While playing for American Ninja Warrior 11 in Atlanta, he earned the prize of $5,000 after becoming the night's first finisher to complete the round [though after a second attempt]. He also earned $10,000 after completing the mega wall round at American Ninja Warrior 15 and reaching the national finals.
Facts About Caleb Bergstrom
The Bergstrom family has been following Ninja Warrior games and shows since 2009.
In American Ninja Warrior 15, Caleb Bergstrom and his sister, Caitlyn, participated with their wife and husband, Ashley McConville and David, respectively.
Caleb says that the whole family practices Ninja Games in the house's backyard, where they have prepared themselves with many obstacles.