Jera Boyd is a native of Minnesota and a professional American Ninja Warrior. The first he participated in Ninja games was American Ninja Warrior Junior, and then he went on to achieve the name through ANW 14 and ANW 15. Jera Boyd is an accomplished athlete who used to participate in American Ninja Warrior games and gets his training at the Concur Ninja Gym in Eden Prairie. He is also getting his training and working at the Concur Ninja Gym in Burnsville.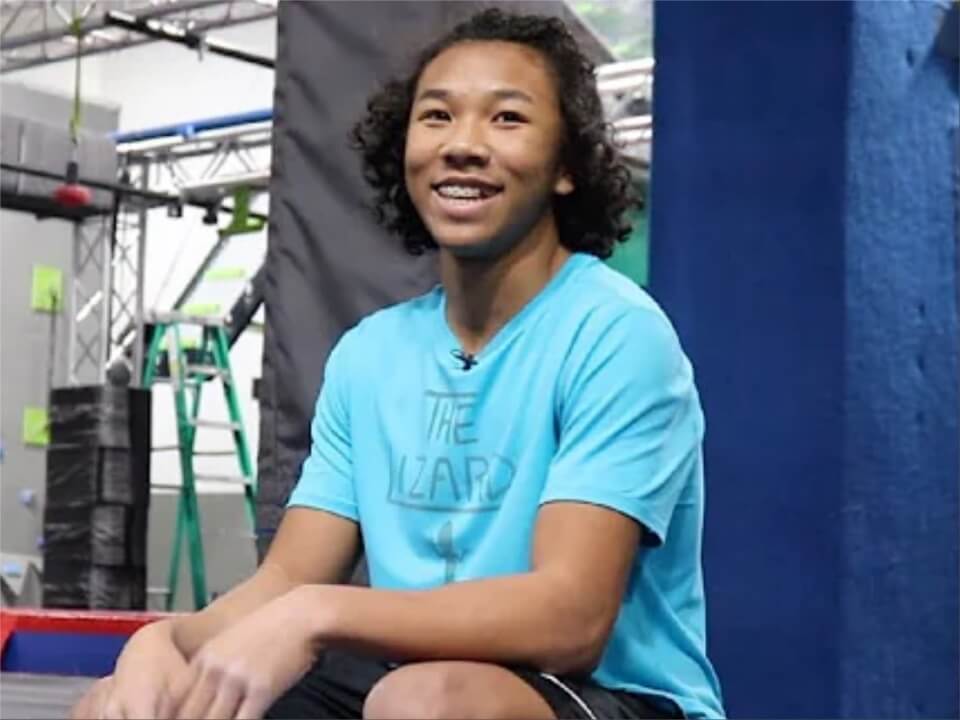 Early Life
Jera Boyd was born in 2004 and he is 19 years 19-year-old young athlete, living in Burnsville. He had his last day in his high school on 19th June 2022. Boyd had his graduation from Bloomington Jefferson High School in 2022 and managed to play the track and field and pole vault.
Jera Boyd Career
ANW Junior
Jera Boyd first competed in American Ninja Warrior Junior in the 13-14 age group range. You can have a look at his qualifying runs in Episode 7. In the seeding round, he stood against Peace Lopez and defeated him. Then, he advanced to the knockout round in the winners' seed. When he went to the final showdown, he faced Peace Lopez again. He defeated him once again and then advanced to the semifinals.
In the semifinal round, he faced Ethan Bartnicki and beat him to the buzzer. Then, he faced and defeated Sophia Lavallee and advanced to the finals. In the finals, he fell and could not complete the Flying Shelf Grab round. Still, he reached and managed to have the 4th place in the overall age group and won around $2,500.
American Ninja Warrior 14
Jera participated in the last qualifying round of the show. He had strong runs there and went flawlessly through the first five obstacles. Then, he went through Mega Wall, which was easy for him. He won around $10,000 and cleared the course with third best and the fastest time. He made it to the semifinals and reached the second round, where he also put another strong run, making it easy to pass through the first seven obstacles.
However, he couldn't get past the eighth obstacle and was placed in the 4th place, advancing to the national finals. This made him travel to Vegas and clear Stage One just before 40 seconds left. He slipped off the third piston at stage two, ending his rookie season.
American Ninja Warrior 15
Jera returned to the second season of the second qualifying round of the show. In this show, he had his name was Jera Boyd. He cleared the obstacles with the second fastest time, cleared the level in 1:20 or less, and got a slingshot in Mega Wall. He defeated and passed the Mega Wall round for the second time in a row and earned $10,000. Eventually, he became the first personality to compete and achieve both versions of Mega Wall.
He reached the semifinal round and competed against Josh Ferguson. He hit the first semifinal buzzer but missed out on the round after Kaden Lebsack, but still managed to pass the national finals for the second straight season. While appearing for the national finals, he had several spins on The Gambler round and did finish Stage One for the second year in a row.
Jera Boyd Biography

Real Name
Jera Boyd
Birth Date
2004
Age (as of 2023)
19 Years
Birth Place
Minnesota
Profession
Student
College
–
Qualification
–

Physical Statistics

Height
in feet inches – 5' 7" – in Centimeters – 170 cm
Weight
in Kilograms – 72 kg – in Pounds – 158 lbs
Hair Color
Black
Eye Color
Black

Jera Boyd Family

Father
–
Mother
Rachel Boyd
Sister
–
Brother
–

Relationship Status

Marital Status
Single
Affair
No
Who is Jera Boyd's girlfriend?
None
Personal Life
Jera is 19 years old and has not revealed any details concerning his love affairs or past love life. Boyd is available on Twitter, Instagram, and YouTube. On Instagram, he is available with the name – jera_boyd, where he describes himself as the personality to be available for videography and photography. He has 2,132 followers on Instagram, with 396 following members and 55 posts.
On Twitter, he goes by the handle name – @jeraboyd, where he has 18 followers with 29 following members. On Twitter, he mostly used to have ninja-related posts. On YouTube, he posts new videos weekly and goes by the handle name – @JeraBoyd, where he has 1.61K subscribers and 96 videos.
Jera Boyd Net Worth
Jera Boyd won $2,500 in his first competition, American Ninja Warrior Junior. While appearing for American Ninja Warrior 14, he achieved the third fastest personality to complete the course, earning $10,000. While appearing for American Ninja Warrior 15, he gained $10,000 after clearing the Mega Wall round for the second time. Boyd has participated in and managed to play the Ninja games in different events since he was 14.