The 16-year-old Madonna's son wears a piece from the new Gucci and Adidas collection inspired by a suit the singer wore on a red carpet almost 30 years ago.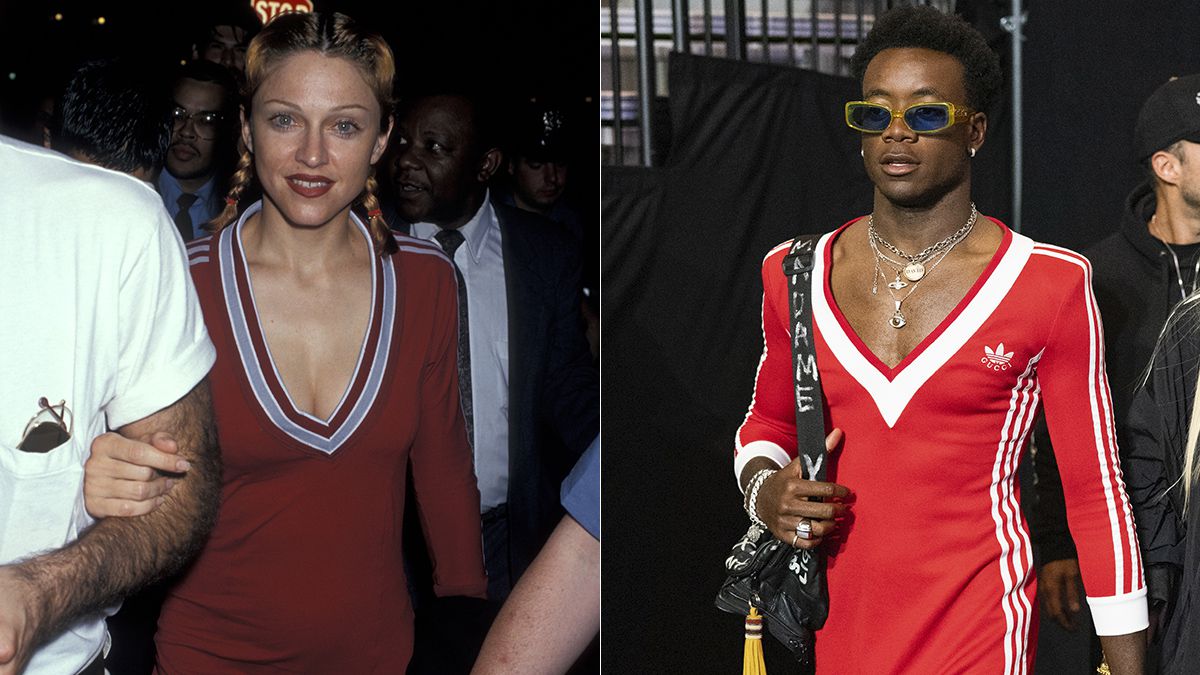 Madonna is considered a style icon. For the history of fashion will remain his look bridal wrap Like a Virgin (1984), the pink silk corset by designer Jean Paul Gaultier that she wore at the Blond Ambition Tour in the nineties, his gothic airs when he released the song Frozen (1998), her Jane Fonda aesthetic (something more disco) when she released her album Confessions on a Dance Floor in 2005… Without forgetting his stage country or, the most recent, urban. A myth of the music and fashion industry whose son David Banda has picked up the glove. The 16-year-old boy opted last Saturday to wear a design inspired by one that his mother wore no more and no less than 30 years ago.
Mother and son attended the World Boxing Association World Lightweight Championship, held in New York. For the occasion, David Banda chose a red dress from the recent collaboration between Gucci and Adidas, presented last February during Milan Fashion Week and which will be on sale next June 7. A choice almost identical to the Adidas dress worn by Madonna at the New York premiere of the film Something to remember. Then it was the month of June 1993, and on that occasion Madonna broke with all the codes, because her appearance was not at a sporting event but at a Hollywood premiere. The singer attended in the company of actress Rosie O'Donnell, and chose to leave aside the classic haute couture suit and bet on a maroon Adidas dress with a pronounced V-neckline. As footwear, no heels: maroon sneakers.
"A moment of the past meets the present", Gucci has written on their Instagram account along with a photo of the singer and her son. "Her mother, Madonna, was photographed in 1993 wearing the dress she was inspired by. [la nueva prenda]. The archival original was part of an official collaboration between the sportswear brand and Label NYC's Laura Whitcomb and was redesigned by Alessandro Michele within his Exquisite Gucci collection. "Men have opened a dialogue with the female universe and I want to promote a broad representation of masculinity, that's why I think it made sense to do it that way," Michele explained at a press conference after that February show about his collection, with garments that are "halfway between the two genders".
For the fight on Saturday night, Madonna opted for an aesthetic streetwear very similar to his son's, although in his case he chose a garment from the Balenciaga collaboration with the same sportswear firm, recently presented at a parade at the New York Stock Exchange. In a world in which celebrities can become the best models for brands, designer Demna was also in charge of reflecting in his Instagram account the singer's choice.
"Family fight night", shared the interpreter with her 18 million followers On Instagram about her evening with David Banda. Madonna maintains a close relationship with her son David, as she herself told in an interview with the British edition of fashion in 2019. "He is the one I have the most in common with. I feel that he understands me; he has more of my DNA than any of my children so far, "said the singer, a mother of six children.
The oldest, Lourdes, is 25 years old and is the result of her relationship with Carlos León. Rocco Ritchie (21 years old) was born during her marriage to Guy Ritchie, and with the film director she adopted David Banda Mwale Ciccone Ritchie. They are followed by Mercy James (16 years old) and nine-year-old twins Stella Ciccone and Estere Ciccone, adopted from Malawi.
Madonna is currently working on a biopic about his life, which he is co-writing with Diablo Cody, winner of an Oscar for her work on the film June.