After winning in 2018, the Golden State Warriors, led by Stephen Curry, are once again looking to be NBA champions and win their seventh title. One of Curry's biggest supports all season and now in the Finals against the Boston Celtics has been his wife, Ayesha. That is why we share his lifestyle with you.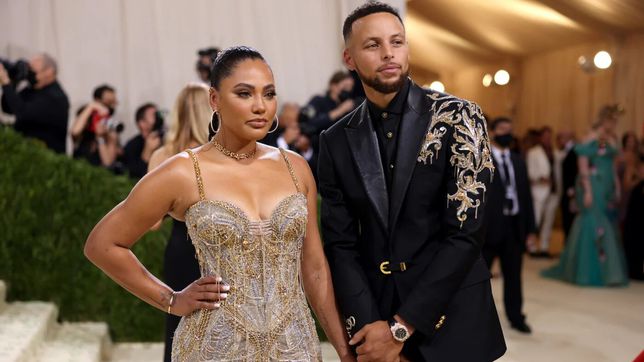 This is the lifestyle of Ayesha Curry, wife of Stephen Curry
Ayesha Disa Curry was born on March 23, 1989, in Toronto, Ontario, Canada. Ayesha is an actress, cook, cookbook author, TV star, and businesswoman. Although he was born and lived in Toronto, at age 14 he moved to Charlotte, North Carolina, where he met Stephen Curry.
The couple met at a church youth group in North Carolina when they were both teenagers. However, their love story began years later when the two met in Los Angeles and later returned to Charlotte, North Carolina, where they married.
The couple married on July 30, 2011. Ayesha and Stephen have three children.– Their daughter Riley Elizabeth, who was born in 2012, and their second daughter, Ryan Carson Curry, born in 2015, and in 2018, they welcomed their third son, Canon W. Jack.
Definitely, family is one of the most important things in Ayesha's life which is why she usually shares her best moments with her husband and children with her more than 7.6 million followers on Instagram.
Ayesha has built her own gastronomic empire over the years. In 2017, he opened his first restaurant, International Smoke. In addition, she is the author of a recipe book, The Seasoned Lifebest seller for the New York Times. It also has its own Food Network show, cookware line, and meal kit delivery service. Also in 2017, Curry was named a spokesperson for CoverGirl.
In April 2020, Ayesha released Sweet July, a lifestyle magazine. It is also part of Domaine Curry, a small Napa Valley winery. In addition, together with Curry, she is the host of About Last Night from HBOMax.
Ayesha has been one of the basketball player's biggest supporters, because she has accompanied him at every step of his career, regularly attending her husband's games, but also shows him his unconditional support and recognition on his social networks.