Stephen Webb, a data scientist from Longmont, Colorado was the new contestant to take part in the Jeopardy show. The show is undoubtedly famous for asking many challenging questions in various categories such as history, literature, and science to different cultures and people. And guess what? This time, a new contestant came up with wild and intriguing ideas to show the audience, none other than Mr. Stephen Webb.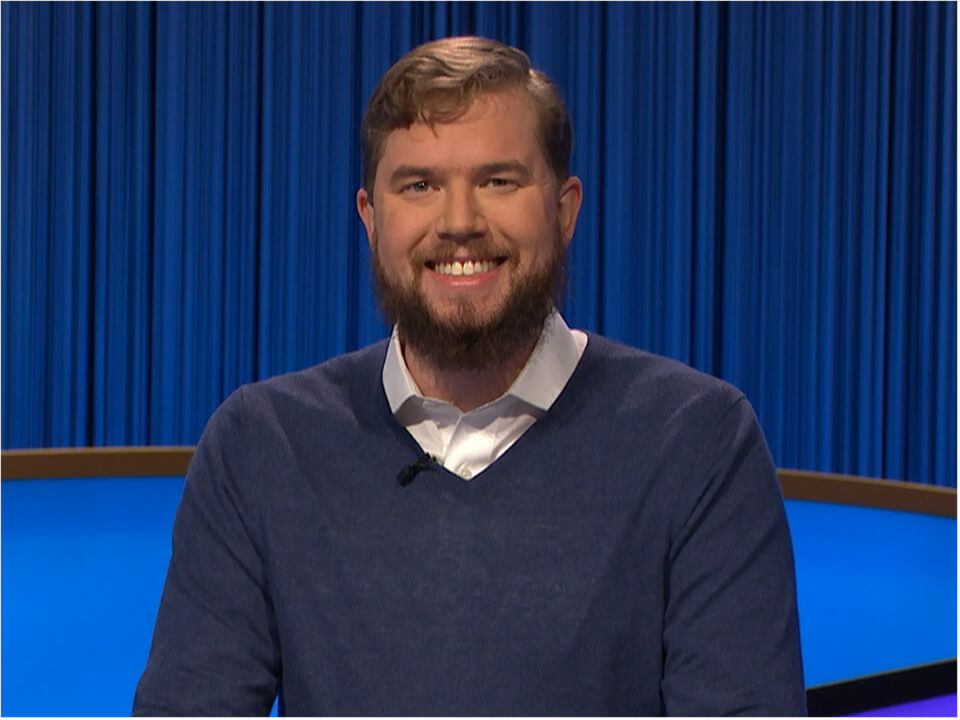 He had the proudest moment when he earned $38,401 in the first round of Jeopardy. He demonstrated the knowledge he inherited from his studies throughout the game. Webb had a great win on February 15, 2023 (Wednesday night), dethroning fellow two-day champion Kendra Westerhaus.
Early life
Stephen Webb was born in September 1984 and currently resides in Longmont, Colorado. He completed his education at Parkview High School. Stephen earned his BS in Physics from Georgia Institute of Technology (2002-2006). He later received his Ph.D. or Ph.D. in Physics from Stony Brook University (2006 to 2011). According to his Linkedin, he calls himself the mountain liver.
Stephen Webb career
Stephen has seven different experiences from different job profiles and locations. He began his professional life as a teaching assistant in the mathematics department. From September 2004 to May 2006 he worked as a teaching assistant for mathematics projects including the recitation sections Calculus I, Calculus II, and Differential Equations. He was responsible for teaching 20-30 students two hours a week.
Stephen taught Physics I & II for Life Sciences and Modern Physics Laboratories at the university where he received his Ph.D. He would probably teach two groups of students, including 15-30 in each department. Webb later became a research assistant at Brookhaven National Laboratory. He also worked as a research associate at Tech-X Corporation, Boulder, Colorado. Aside from his involvement in research areas, he was also responsible for writing some proposals to the Department of Energy, the National Institutes of Health, and the Department of Agriculture.
He devoted nearly seven years of his life to a company called RadiaSoft LLC, starting with the profile of Associate Group Leader (six months), Senior Research Scientist (seven years), and Group Leader for another year. From December 2021 to March 2022 he worked as Senior Data Scientist at Hotel Engine. Most recently, he was a senior data scientist at Emburse for almost nine months.
Jeopardy journey
He joined the show on February 15, 2023, and from start, to finish it was curious to see how his fierce response techniques dethroned two-day champion, Kendra Westerhaus. Kendra was the licensed psychologist and had her own skills which brought her to the show It was also wonderful to watch and exciting to see her grow at every step over the last two days. But she had to end her game and give way to another contestant, Stephen Webb.
Webb gave the maximum number of correct answers and ended up taking home the top prize of $38,401 – making him the new leading champion of the day. He returned to the show on February 16, 2023, facing off against Ali Miller, a product manager, and Brad Weinstock, an actor from Hoboken, New Jersey. It will now be exciting and fascinating to watch if Stephen can maintain his leading position on next night's show Jeopardy…?
Stephen Webb biography

Real name
Stephen Webb
birth date
Sep 1984
Age (as of 2023)
38 years
residence
Longmont, Colorado, United States
Profession
data scientist
University
Georgia Institute of Technology (2002 to 2006).
Stony Brook University (2006 to 2011).
qualification
graduate

Family

Father
–
Mother
–
Sister
–
Brother
–

relationship status

Marital status
Married
Who is Stephen Webb's wife?
–
Children
–
Personal life
Stephen is a happily living married man as of October 27, 2021. We're wondering if he's had kids since his marriage in 2021. Webb shared a picture of him at his wedding with his wife, but no information can be found about their life partners.
Stephen Webb social media
Stephen is available on LinkedIn and Facebook and may be available on other social media profiles, but we can't find him by his original name. We're wondering if he's available with another character or an unidentified image. He recently created a Facebook page for his fans, where he describes himself as the one-day champion on Jeopardy.
Stephen Webb Net Worth
It is certain that Stephen Webb would earn well due to his long career which started in 2004. In the last 19 years, he has worked in various professions such as teaching assistant, research scientist, and senior scientist. He is certainly a proud figure for his family and acquaintances. And that's the proud moment again for the entire audience as they watch a scientist on the set of Jeopardy give fierce replies.